About Trees Hurt Too Inc
Trees Hurt Too Inc. is the premier lawn and tree care specialist in the Tarrant County Area. A large part of this success is due to the fact that our founder and his team have vast experience in the pest control and lawn care industry, stemming all the way back to 1998.
We believe that lawn care and pest control go hand and hand. You can enjoy a healthy, beautiful-looking lawn that repels pests from your property, providing a barrier around your home from any sort of dangerous or damaging invasions.
When other companies look to protect your home and then shift their focus to the yard, we choose to turn your home into a safe-haven from pests by stopping them before they even get near the structure. It's amazing what a healthy, professionally tended lawn can do for pest problems.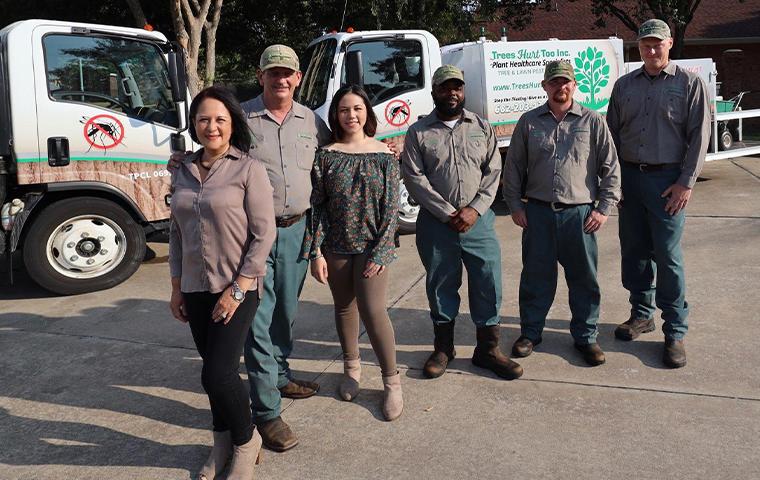 Why Choose Trees Hurts Too, Inc.?
We focus on lawn and tree care to protect your property and keep it beautiful. Whether your yard is large or small, heavily wooded or pastoral, we have the experience, tools, and foresight to maintain your property and keep your home free from unwanted pests. In our years of experience, we have accumulated a long list of accolades and credentials:
International Society of Arboriculture (ISA) Certified Arborist
Member of the Better Business Bureau (BBB)
ISA Member
Certified Applicator in Texas for Lawn and Ornamental Plants
General pest control
Weed control
Termite control
Because of our experience, focus, and special attention to caring for your lawn and your trees, we can provide much more effective health and beautification solutions for your property. In a place like Tarrant County, it can be difficult enough to keep your lawn looking great without pest problems.
However, without a proper protection plan in place, your lawn could become a suitable habitat for a variety of pests and wildlife that could easily end up in your home. By trusting your property, lawn, and landscaping to our Licensed Plant Health Care Professionals, you can create a pest-free environment in your yard which will protect your home from dangerous pest invasions.
Our Core Values Statement: A Promise To You
We understand that your family comes first, which is why we value the areas of your home that mean the most to your family. Your yard should be a beautiful and safe place where you can relax, play, and enjoy time with friends and family. Our promise to you is to protect and beautify your yard with all-natural, organic methods that will only harm invasive pests and unwanted vegetation.
Our Mission
Our mission at Trees Hurt Too is to give the best and highest customer service, and cost efficient tree care and lawn services. We will make sure we provide you with a healthy, safe, and beautiful landscape
Our Vision
Our vision is to be the best company in the area we serve, and to be recognized as the leading company. We want to be your first choice when you need tree and lawn care services.
Our Values (TRUST)
T: Trustworthiness. We are committed to operating in an honest manner. We are reliable. We do what we say we're going to do!
R: Respect: We are committed to respecting our commercial relationships, our customers, the properties that we proudly serve, and the nature we protect and help
U: Understanding. We provide services that respond to the needs of your trees and your property. We understand the importance of how accurate and appropriate the actions that need to be taken to improve the health of your trees, lawn, and property value are.
S: Service. We are dedicated to providing outstanding service to our customers
T: Timely. Our responsibility is to provide the right service at the right time. We act proactively by preventing damage to your trees and lawn
Since our focus is your satisfaction, coming up short of this goal won't be an option. If you want to protect your yard with the quality care your entire family deserves, call us today for a free consultation.